EC-NE400 Network Extender
Hardened G.SHDSL.bis Network Extender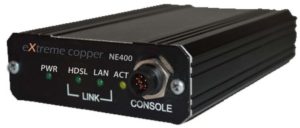 KEY FEATURES:
Extending Ethernet to first mile sites over existing traffic, transportation, and enterprise copper infrastructure
Point-to-Point
Low cost plug and play solution for extending high-speed communications over long distances using a single twisted pair of wire
Extends the distance of 10/100 Ethernet/Cat 5 video, audio, and control systems up to 22,000 feet
Simultaneously supports video and high-speed data services
Does not require PC or Software setup
Easily accommodates Access Control System data or data streams from serial data to TCP/IP converters for security, building controls, or plant process equipment
Inter-modem Data Link allows LT-400 management of remote end (NT-400)
DESCRIPTION:
The NE400 Network Extender is designed to provide bonded high-speed Ethernet in the First Mile services using g.SHDSL.bis on existing copper infrastructure. It is a bridge-mode modem that delivers Ethernet services with symmetrical bandwidth at rates up to 15.3 Mbps/ pair.
The NE400 ensures high reliability, low OPx, and maximum throughput. EFM copper technology enables the delivery of higher bandwidth at longer distances over copper pairs – an excellent alternative where fiber is not economically feasible and other technology such as T1 or E1 is not able to meet bandwidth requirements.
This "Ethernet-pure" solution provides a seamless integration today for tomorrow's networks. The NE400 extends the reach of Ethernet services using copper pairs for an aggregate bandwidth of over 15Mbps (TC-PAM 128) using only 1 pair over long distances. The rate is adaptive depending on the length and quality of the line; rates can be fixed if desired.
Designed using standards-based EFM technology (2BASE-TL), deployment of Ethernet services using the NE400 is quick and simple. Typically used in point-to-point and drop/continue connections between offices, the NE400 provides symmetrical connectivity that is ideal for enterprise to deliver business-class Ethernet service. User-friendly Ethernet makes it possible to save unnecessary truck rolls and minimize training costs leading to reduced risk and quick ROI.
The NE400 operates in EFM mode. It is designed to deliver business class Ethernet Service. The NE400 management is by user-friendly CLI.  Firmware upgrade via inter-modem data link. Local monitoring is possible using front panel access port or remotely via the web using optional Telnet or SSH.
STANDARDS:
ITU-T G.991.2
IEEE 802.3ah PAF
IEEE 802.3 10/100Base-T
INTERFACE:
1 – WAN (G.SHDSL.bis) Port (1-pair)
1 – LAN Port
1 – Console Port
1 – Power Input Jack
PROTOCOLS:
Up to 2K MAC Address learning bridge
LAN FEATURES:
10/100BASE-T auto-negotiation & sensing
Auto MDI/MDI-X
WAN FEATURES:
ITU-T G.991.2
2BASE-TL
Support of Annex A, Annex B , Annex AF & Annex BG
DATA RATE CONFIGURATIONS:
N x 64Kbps using TC-PAM 16/32
5.696Mbps (1-pair)
N x 64Kbps using TC-PAM 64/128
15.296Mbps (1-pair)
MANAGEMENT:
Easy to use CLI for quick local and remote management
SNMP v1/v2 (RFC1157/1901/1905) agent and MIB II (RFC1213/1493) (optional)
ELECTRICAL:
External AC power cube
90 to 240 VAC @ 47 to 63Hz.
Internal 18-72 VDC
2 Watt
MECHANICAL:
Height 1.5in (3.8cm)
Depth 5.0in (12.6cm)
Width 3.8in (9.6 cm)
Metal enclosure with wall mount tabs
DIN Rail (optional)
APPLICATIONS:
Metro Ethernet Extensions
Transparent LAN Services
Fast Internet Access
Leased Lines Replacement
Point-to-Point (EFM Extender)
Cellular/WiFi Backhaul (to the RAN, Core)
LED INDICATORS:
Power
Ethernet "Good Link"
Ethernet "Activity"
SHDSL "Sync"
ENVIRONMENT:
Operating Temperature: -40°C ~ 74°C
Operating Humidity: 98% (Non-Condensing)
CONNECTIONS:
RJ45 for 2BaseTL Ethernet access
RJ45 for G.SHDSL.bis access required
CERTIFICATIONS:
FCCA
WARRANTY:
2 Years-Applicable to design or manufacturing related product defects
Specifications are subject to change without notice.
Data Sheet Download: NE400 Network Extender Data Sheet